If you're launching a new warehouse or DC operation, especially if it's your first time doing so, I can empathise completely with the amount of work you have on your plate right now. New DC and warehouse projects are complex, with a myriad of elements which must be planned for optimal performance, one of which is the choice of appropriate MHE, especially forklift trucks.
Your forklift fleet will be a critical driver of operating cost, space utilisation, and supply chain throughput, so choosing the right assets is necessarily a painstaking process. Comparisons of price, features and performance make up but a small part of the task.
While your project is likely taking up every spare minute of your working days right now, try and spare a few minutes to read through this post, in which you'll find some ideas and guidance to help you plan and select your new forklift fleet.
Tap Into the Knowledge of Experts
The information in this post is drawn from the experience of Logistics Bureau consultants, who have successfully helped many supply chain organisations to optimise MHE procurement and implementation within their facilities.
Before getting into specific considerations for selecting a forklift fleet though, there is one very important point that simply must be made … There is no such thing as a typical forklift fleet.
The tips in this article can only serve as a general guide for forklift fleet planning. Your choice of MHE will need to be tailored for your operation alone, so generic advice is useful, but only to a certain degree. Therefore, I recommend that you try to obtain advice from professionals with experience in selecting forklift fleets for operations like yours.
Who to Talk To:  Logistics Operators and Forklift Dealers
Try and locate one or two organisations with logistics operations similar to your own, and go talk to their warehouse management teams. If possible, take a look at their mix of forklifts and MHE and ask questions about how and why the fleet is made up as it is.
Similarly, there's no harm at all in speaking with some forklift dealers early on—long before you're ready to make a purchasing decision. Dealers understand that every operation is unique and that buyers need to research thoroughly before making procurement decisions.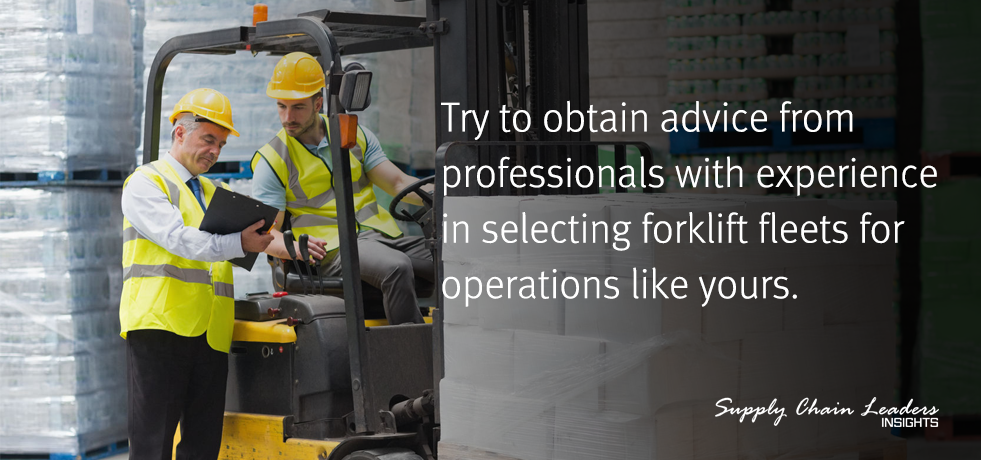 In many cases, a dealer's representatives will be prepared to engage in a general discussion about your needs and to share their experience with regard to forklift types, choices of power-plant, capacities and configurations, without applying sales pressure.
Dealers are also used to evaluating equipment needs for many different types of logistics operation, so they're in a great position to give advice tailored to your own industry and operational characteristics.
Matching the Forklift Fleet to Your Operation
Many factors come into play when selecting a forklift fleet, which is why I recommend speaking early to people who have experience working with businesses like your own.
To begin with, it's very likely that you will need a mix of different truck types, which must be chosen in accordance with considerations such as:
Throughput requirements
Warehouse processes and practices
Types of product/materials to be handled
Quantities to be handled
The size and type of storage facility
Types of racking and other storage locations
Picking process requirements
Warehouse aisle width
Environmental factors
The larger and more complex your warehouse operation, the more different forklift types you will need, and of course, you also need to consider carefully how many of each truck type will be required.
Think About Fuel
As if it's not hard enough to determine what types of forklift truck you will need in your fleet, there is also the question of how your MHE will be powered. This in itself is a complicated decision and a whole article might easily be dedicated to this question alone. As food for thought though, here are the main pros and cons of the different power sources/fuels which you need to choose from:
Electric Forklift Trucks: Run on batteries, which can be charged in place, or removed and swapped for charging.
Pros:
Environmentally friendly
No emissions
Quiet operation
Compact and manoeuvrable
Relatively inexpensive to operate and maintain
Simple driving controls
Cons:
Battery charging stations take up indoor space, as do the trucks when parked up
Generally unsuitable for outdoor use (especially in poor weather)
Trucks and batteries are expensive to buy
Poor performance on rough, cracked or potholed floor surfaces (can even be dangerous in these conditions)
Gas Forklift Trucks: Use internal combustion engines which run on LPG or compressed natural gas (CNG).
Pros:
Long lifespan
Low maintenance costs
Fast refuelling
High rate of travel (faster across the ground than electric trucks)
Relatively cheap to purchase
Quiet in operation (compared to diesel forklifts)
Lower and less obnoxious emissions than diesel forklifts
Can be used in warehouse and outdoors
Excellent power-to-weight ratio
Cons:
Higher running costs than diesel or electric trucks
Require considerable skill to operate
Can drop oil and other fluids on warehouse floors
Low residual value
Require space for fuel storage
Diesel Forklift Trucks: Use internal combustion engines which run on diesel fuel.
Pros:
Highly reliable
Low running costs
Best for heavy-duty operations
Long lifespan
Best for use with attachments such as clamps
Cons:
Only suitable for occasional indoor use, due to emissions
Least environmentally friendly truck type
Noisy in operation
Requires more skill to drive than an electric truck
Requires space for fuel storage
As can be seen from the pros and cons, you will probably find the need to have a mix of electric and gas/diesel forklift trucks in your fleet, although if you have only minimal yard operations (or much of your yard is covered), it might be possible to go all electric.
Consider Capacity Needs
Load sizes, types and capacities will be one of the most important considerations in choosing your new forklift truck fleet. Capacity requirements will drive many other forklift selection criteria including the fuel type and sizes of forklift engines/motors.
For example, even if load weights or sizes are not especially great, you may have the need for forklift attachments such as clamps, which require more powerful engines than simple fork attachments.
Some questions you should consider in terms of forklift load capacity include:
What items do your forklifts need to handle?
What is the typical load weight?
What are the heaviest loads to be handled?
What is the typical load width, height and length?
How high will your forklift masts need to be?
With so many interrelated factors to think about, forklift fleet planning is really not something to try without reference to expert resources. This article can but provide a few basic pointers, and even if you are a seasoned MHE expert and buyer, it's worth catching up on developments in forklift technology before making what will surely be a significant financial investment.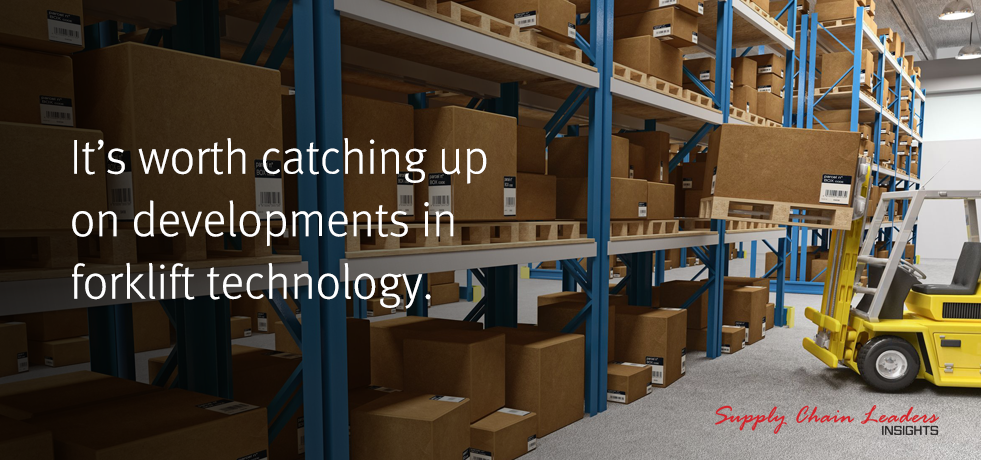 Expert Forklift Fleet Advice at Supply Chain Leaders Insights 2016
Our first Supply Chain Leaders Insights event is taking place soon (October 26th, 2016), where we expect to have some forklift vendors attending, purely to provide operators with the benefit of their expertise and knowledge. If you want to be sure of getting expert dealer advice, sans sales talk, this event is one to attend before you finalise your forklift fleet planning.
The dealers at Supply Chain Leaders Insights will be present to offer tips about everything from choosing the right type and size of truck, to the pros and cons of leasing versus buying a forklift fleet. Whether buying one truck or a hundred, this is your unique opportunity to hear from those who have the best insights into MHE across every industry and warehouse environment.
We hope to see you here at our revolutionary supply chain conference "with a difference", so to secure your place, visit our online registration page now, before all seats are sold.